Conor McGregor: Can UFC fighter return with win against Khabib Nurmagomedov?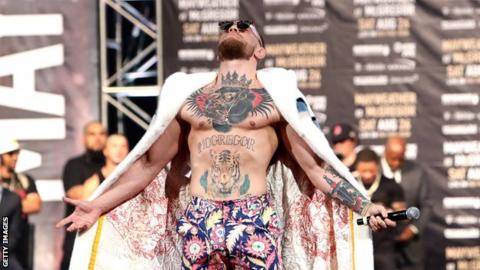 Little more than a year ago in Las Vegas, Conor McGregor banked $100m (£76m) to co-star in a pay-per-view sporting event he had little chance of winning.
The biggest pay day of his career was served up in a boxing ring, against Floyd Mayweather, in what was always going to be win-win for the mixed martial artist.
In making his boxing debut against one of the greatest pugilists of a generation, there was no pressure on the shoulders of a man who states that the sport is one fifth of his fighting arsenal.
Ultimately, the event proved he had no business being in the ring with 'Money', but that doesn't mean it was a failure for the Irishman. Far from it.
McGregor, with the swagger and bravado of a true showman, more than held his own in the multi-city media tour before the fight. And he showed heart and determination to survive 10 rounds before finally being stopped on his feet. Mission accomplished.
In defeat, the 30-year-old became a truly global personality.
This weekend he returns to the scene of the heist – the T-Mobile Arena. However, this time he's not armed with the same royal flush. On Saturday night he finds himself armed with a pair of aces only – clenched in either fist.
While McGregor was away getting rocked from pillar to post in the boxing ring, Saturday's opponent, Khabib Nurmagomedov, was extending his unbeaten record and picking up the lightweight title belt the Irishman had left behind.
The 30-year-old Russian's perfect run of 26 straight wins is one of the greatest achievements in MMA history, which perhaps makes him the toughest opponent for McGregor to return against.
Nurmagomedov is a battle-hardened grappler, who likes to rag-doll his opponents around the cage.
His style is in complete contrast to McGregor, who stands tall and strikes heavy from a southpaw stance. On paper, the Russian's approach is the worst possible style for McGregor to handle. So why is he doing it? The answer is both belief and beef.
McGregor was born to fight. He started training in MMA long before the sport was receiving the kind of global coverage it is today.
In 2015, long before the million-dollar pay days, private jets and fleet of Rolls-Royces, McGregor told Esquire magazine: "I didn't get into MMA to be somebody. I got into this game to feel comfortable in uncomfortable situations."
His MMA career has been one of overcoming uncomfortable situations. He seeks out the toughest tests, the impossible dreams, the never-done-before moments.
He takes fights at late notice, shrugs off last-minute changes of opponents and sails up and down the weight divisions. It's the foundation on which his fandom is built. He's never turned down a fight.
Then there's the beef – a thrown metal dolly, a New York City courtroom and posing for a photograph with Russian president Vladimir Putin. If it was the script to a Rocky Balboa spin-off we'd think it too far-fetched.
In July, McGregor was sentenced to five days of community service in the United States after pleading guilty to disorderly conduct over an incident in April at Brooklyn's Barclays Center after a UFC media day.
It occurred after an alleged confrontation between McGregor's friend Artem Lobov and Nurmagomedov, with the Irishman throwing a metal dolly into the window of a bus carrying fighters, including the Russian.
Footage of that went viral, while the outcome would lead to pullouts from the fight card because of injuries.
After criticising the incident in the immediate aftermath, the UFC would eventually use the footage as part of its promotion for the fight.
In July, McGregor even travelled to Moscow at the supposed request of Putin to attend the World Cup final.
"One of the greatest leaders of our time," he posted on social media under an image of himself with his arm around Putin's shoulders.
Nurmagomedov was in the stadium too – but he was sitting in the stands with the fans while McGregor was sipping whiskey in a tailored suit from the comfort of the VIP boxes.
The pair finally came head to head for the first time in New York in September for an early news conference.
McGregor was electric as always, as personal and precise with his put-downs as he was in promoting his own whiskey brand. Nurmagomedov remained largely stoic and uncompromised. He'd better be prepared for far worse to come between now and the opening bell.
The Russian should start as favourite. But such is the popularity of McGregor, the Irishman's odds are likely to be far shorter than form and inactivity should dictate.
More than two million people in North America alone are expected to pay upwards of $70 (£54) to watch McGregor's return this weekend. That will smash the previous record, set at UFC 202 in August 2016 when McGregor's rematch against Nate Diaz drew 1.65 million buys. McGregor must deliver.
His exploits so far have been instrumental in projecting the UFC to the forefront of world sport. Yet to remain there, McGregor once more has to do something that's never been done before – he must must find a way to defeat an unbeaten champion.
Fans accepted seeing McGregor bloodied and beaten in the ring against Mayweather. It always felt like a step too far.
But back in 4oz gloves we are used to seeing McGregor not only victorious, but dominant and utterly destructive. In MMA the Irishman doesn't just win, he wins in style with all the swagger and the confidence of an all-time great.
By getting his hand raised on Saturday night in Las Vegas, McGregor's new-found spot at the top of world sports' pay-per-view ladder is guaranteed. But defeat could prove to be a setback both himself and the UFC would struggle to bounce back from.
Legacies are made in moments like this.