Key Points
Australian shares rallied late but still closed the session lower
Morgan Stanley downgraded ANZ Bank
That's if for Markets Live for today and for this week.
Thank you for joining us and thank you for your comments.
We'll be back on Monday, hope you have a good weekend.
Our thoughts with anyone affected by the tragedy in Christchurch today.
Australian shares closed a mixed week of trading slightly lower, as the market awaited more developments to continue its strong run this year.
The S&P/ASX 200 Index fell 28.6 points, or 0.5 per cent, to 6175.2 while the broader All Ordinaries slid 22 points, or 0.3 per cent, to 6265.1.
The market remained very jittery this week, as a series of votes in British parliament over the future of Brexit and mixed news coming from trade negotiations between the US and China swayed the market.
"I think a lot of the positives are already being reflected in the rally in the past several weeks and investors are in search for fresh impetus to continue with the rally," said J.P. Morgan Asset Management chief market strategist Tai Hui.
"In the next week or so, the Fed's FOMC meeting will be key in driving sentiment, especially its update in economic projection and any indication of tapering, or even ending, its balance sheet reduction later this year."
The major miners were mixed this week. BHP Group fell 1.1 per cent to $36.48 this week, Rio Tinto advanced 1.2 per cent to $91.65, South32 climbed 0.8 per cent to $3.81 and Fortescue Metals Group closed at $6.48, down 0.3 per cent for the week.
Gold miners also supported the market's advance this week as investors hedged amid uncertainty over the future of Brexit and the trade war. Newcrest Mining climbed 0.9 per cent this week to close at $24.72, Evolution Mining rose 4.6 per cent to 3.65, St Barbara advanced 7.9 per cent to $4.50, and Saracen Minerals closed the week 8.6 per cent higher at $2.79.
Kogan.com shares closed 6.5 per cent lower at $3.74 despite its shares soaring on Thursday after announcing the launch of Kogan Marketplace in a bid to compete with Amazon, eBay and Catch Group. The new platform will allow third party traders, including Microsoft, Breville, Lego, Fisher-Price, Paw Patrol, SodaStream, Gillette, Gucci and Philips, to sell products through the platform.
The major financial stocks led the losses on the local sharemarket. ANZ shares fell 2.8 per cent to $26.35 this week, Westpac closed 1.9 per cent lower at $26.48, NAB slid 0.7 per cent to $25.21, Commonwealth Bank declined 1.2 per cent to $72.31 and Macquarie closed at $127.74, down 0.6 per cent.
Sigma Healthcare shares fell 14.6 per cent to 52.5¢ this week after the company knocked back a takeover offer from rival Australian Pharmaceutical Industries. Sigma boss Mark Hooper said the company would have to significantly boost its $730 million cash and scrip offer.
The recent weakness in gold could present a strong buying opportunity for investors if they're willing to ride out some short-term pain according to strategists.
"We view the recent downtick as a buying opportunity for those looking to make medium- to longer-term gold allocations," said RBC Capital Markets commodity strategist Christopher Louney.
"That is not to rule out any additional near-term pain as a strong dollar continues to cap gains, but we think that price risk is skewed to the upside not only in 2019, but likely in 2020 as well."
The price of gold has fallen more than 3 per cent in the last month and is now trading at $US1,297.05 an ounce.
Morgan Stanley downgraded its rating and price target on ANZ Bank, citing a range of issues facing the bank.
The broker said revenue pressure was growing, ongoing positive cost surprised looked unlikely, de-risking was largely complete, capital management options were reduced, ROE was not recovering and their share price was vulnerable to earnings downgrades.
"While ANZ's business mix should provide more scope than peers' to adapt to an increasingly difficult operating and regulatory environment, we believe it currently faces execution challenges in Australian retail and business banking, with housing loan growth and deposit growth below system," said analyst Richard Wiles.
The broker downgraded its rating to 'underweight' and reduced its price target from $26.00 to $25.00.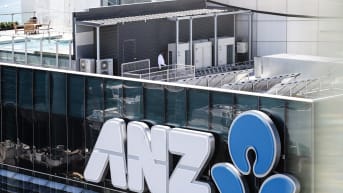 A pair of deadly plane crashes over the past five months has spun the Chicago-based aerospace giant Boeing into a full-blown crisis: The company faces lawsuits from surviving family members of at least two dozen crash victims, the worldwide grounding of two versions of its most profitable jet, and harsh criticism from pilots.
Still, analysts say the crisis is unlikely to be financially ruinous for Boeing in the long term. Even though some estimate an extended grounding of the Boeing 737 Max 8 could cost the company hundreds of millions of dollars, analysts said it would be hard for airlines to readily replace Boeing's jets with a competitor's. And the crisis comes on the heels of a banner year for Boeing's business, with revenue topping $US100 billion ($141 billion) in 2018, an all-time high.
Two heavily damaged data and voice recorders that hold key information on Ethiopian Airlines Flight 302 arrived on Thursday (Friday AEDT) in a Paris suburb, where an international team of investigators will try to retrieve and analyse details from the Boeing 737's onboard systems and cockpit conversations.
Read the full story here.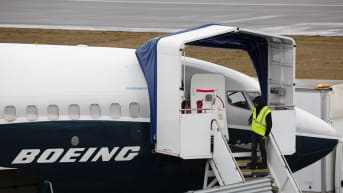 NAB will support 72 of the 76 Hayne royal commission recommendations but it will not support ending mortgage broker commissions.
In an ASX announcement, NAB acting chief executive Philip Chronican said the bank supported 72 of the recommendations and "would work with government and regulators with a view to taking positive action as quickly as possible on the remaining areas, which relate to broker arrangements, definition of small business and [banking executive accountability regime] accountabilities".
However, NAB will not support the recommendation to end mortgage broker commissions and replace it with a fee paid by the borrower.
Misa Han has the full story here.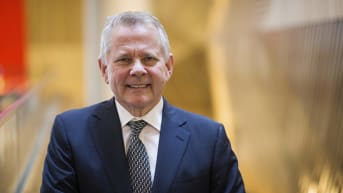 Slowing growth has sharply divided opinion on the state of the economy. And the battle lines have been drawn around data: weak gross domestic figures on one side, strong labour numbers on the other.
A disappointing December quarter posted 0.2 per cent GDP growth, revising the annual rate to 2.3 per cent and missing both market expectations and the Reserve Bank's own annual growth projection. But Treasurer Josh Frydenberg has held up high participation rates, alongside nominal GDP growth, as evidence of economic strength.
This week the Westpac-Melbourne Institute consumer sentiment surveyfound that unemployment expectations jumped up 8.9 per cent in March. The index hit an 18-month high after a seven-year low in February, suggesting that the overall positive labour figures had not necessarily translated into confidence in the workforce.
Bo Seo has the full story here.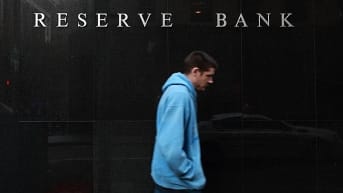 Ride-hailing company Uber Technologies is planning to kick off its initial public offering in April, putting it close on the heels of smaller rival Lyft, people familiar with the matter said on Thursday (Friday AEDT).
Next month, Uber will issue its required public disclosure, known as an S-1, and launch its investor roadshow, the people said. Those events will set in motion the Wall Street debut of one of Silicon Valley's most closely watched companies.
The timing for Uber's IPO means it will most likely hit public markets soon after Lyft completes its own public offering, which is expected to happen by the end of March, people familiar with the matter said. Uber declined to comment.
Read the full story here.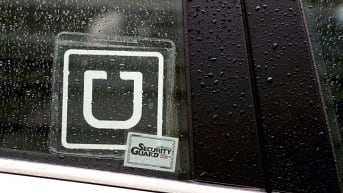 China says it has made "concrete progress" on the wording of a trade agreement after the countries' top negotiators spoke by telephone this week, state media reported Friday.
"The two sides have made further concrete progress on the text of the trade agreement between the two sides," Chinese state news agency Xinhua said in a statement.
The remarks came after Chinese Vice-Premier Liu He spoke with US Trade Representative Robert Lighthizer and US Treasury Secretary Steven Mnuchin by telephone.
Michael Smith has the full story here.
Buyers of off-the-plan apartments could be "out of the money" by as much as 20 per cent as settlement falls due in coming months, raising the risk of greater defaults, according to UBS analysts.
The issue of settlement and apartment values has now become acute for those buyers who contracted for off-the-plan apartments at the peak of the market around 2016 and 2017.
With prices falling and banks' tougher stance on borrower scrutiny, fresh valuations ahead of loan approvals for settlement could sink as much as 20 per cent below original off-the-plan purchase prices, according to UBS.
Su-Lin Tan and Nick Lenaghan have the full story here.